Overview
Water Street TampaTM is an innovative new urban development project, located on 56-acres of land in downtown Tampa, that will reconnect the city core to the waterfront and adjacent neighborhoods as well as create a more balanced, urban experience for citizens and visitors alike. The Water Street Tampa project has achieved the WELL Design & Operations ("D&O") designation under the WELL Community Standard, the first neighborhood to obtain this designation globally, Water Street Tampa is pushing the innovation envelope to leverage the tremendous potential lighting solutions can bring for citizens' well-being and vertical real estate.
The City of Tampa and Strategic Property Partners (SPP), the brainchild behind Water Street Tampa, were looking for a lighting solution and smart pole partner with a proven track record in smart poles. Sesco Lighting, the largest and most successful lighting manufacturer's agent in the US, identified an opportunity with Lumca, which has designed and developed innovative smart pole and lighting technologies for years across North America.
At the onset of the project, SPP was looking specifically for a smart pole provider—a partner that was future-ready to integrate, over time, the latest technologies, including 5G, digital billboards, security and sensor systems, Wi-Fi systems, charging capabilities and more. In addition, the smart pole's design ethos had to be sleek and current. In addition, the smart pole's material and structural integrity had to withstand Tampa's saline coastal environment and wind loads of up to 180 mph.
Another criterion was especially important for SPP: the design could not compromise on people's visual comfort.
Approach
To respond to the RFP, Sesco Lighting presented Lumca's ahead-of-the-curve smart pole capabilities to SPP, after several meetings with the companies' respective teams in Montreal and Québec City, Canada.
Lumca introduced the SPP team to clients at the City of Montreal. SPP was able to gain a first-hand view as to the field-proven lighting and smart pole technology prowess that Lumca could provide.
While Lumca's smart pole capabilities remained top of mind, SPP also presented its design vision for the city's lights.
It all started with an indoor light.
The vision was to bring the concept of indoor lighting outside. The reason? SPP wanted to light up Water Street Tampa with a lighting solution that provided the level of unmatched visual comfort and light quality that only indoor lights. The teams at Lumca and SPP collaborated together on an entirely new lighting design that would draw inspiration from the clean and comforting lines found in interior fixtures.
"The LIO line of outdoor lighting products draws its inspiration from the clean, simple lines and comforting, enveloping light renderings found in interior fixtures, from which it takes its name Lumca Inside Out. The design of the luminaire is totally human-centered in terms of its appearance, installation system, maintenance, end-of-life cycle and lighting performance."

Luc Fortin
Product Designer, Lumca
"Most firms offered very bulky poles that were either less refined and/or oversized, attempting to conceal everything inside a very large base. SPP desired a more refined design that was very adaptable especially in light of ever-changing, technology. Lumca had a very interesting concept with the rail pole. We appreciated their willingness to customize features as we started to discuss the opportunity to work together on a smart pole tailored to Water Street Tampa."

Darren J. Morse
Strategic Property Partners, LL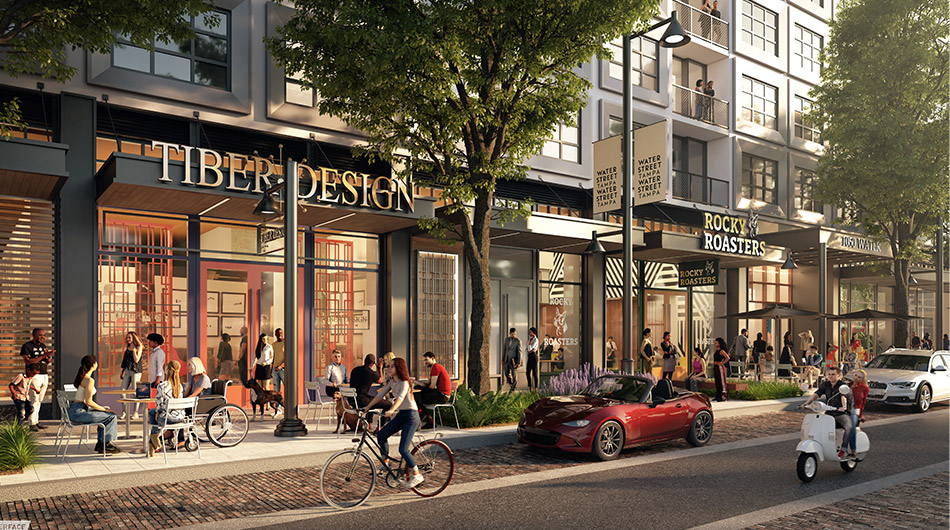 "Nobody else is doing this level of sophistication to meld high tech with high design, with 6 to 12 strains of fiber to each pole. The ingenious way Lumca addressed concerns for drilling, access points, and the ventilated electrical cabinets, for example, is impressive."

Trevor Moore
Sesco Lighting
"We developed, shipped and delivered a whole new lighting product—a fully custom smart pole and design project in less than a year. We could not have done it without Lumca."

Brittany Dytrych
Sesco Lightin
Conclusion
Water Street Tampa is blazing the trail in North America for how future smart cities should be developed. Lumca's ability to match ahead-of-the-curve design with unprecedented practicality and functionality has definitely elevated what urban planners and designers should look for in a partner to provide outdoor lighting and smart pole technology.